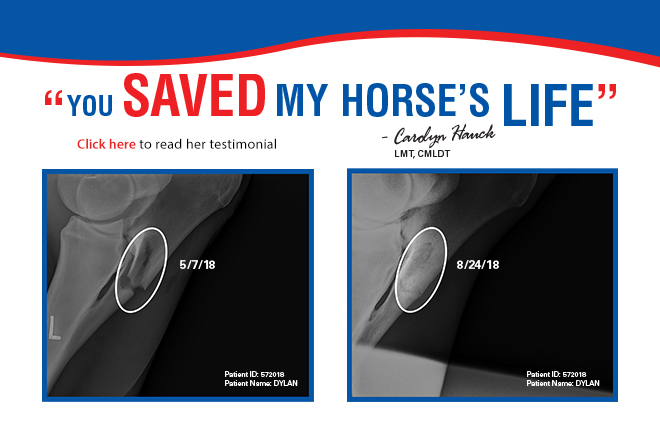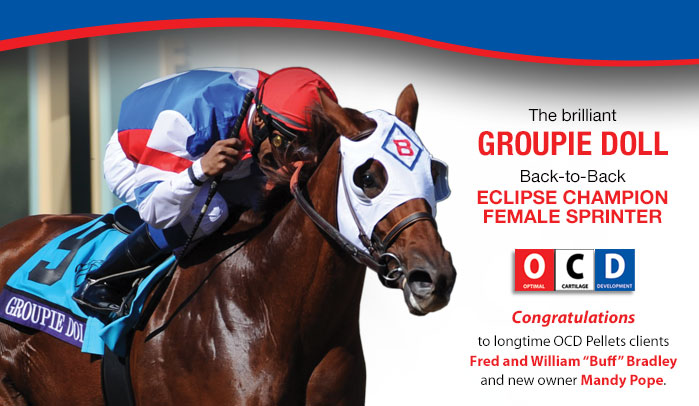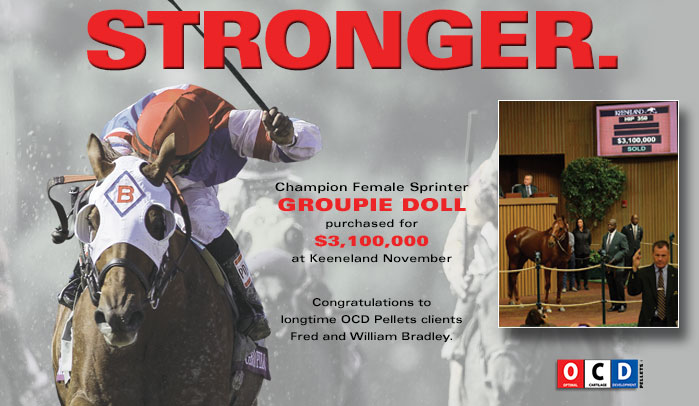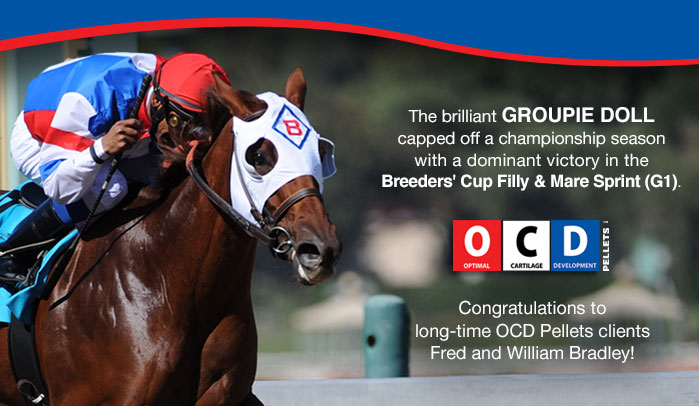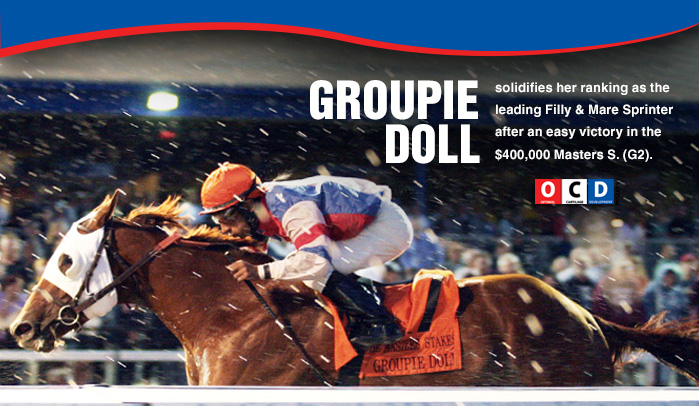 Buff Bradley, long-time client of OCD Pellets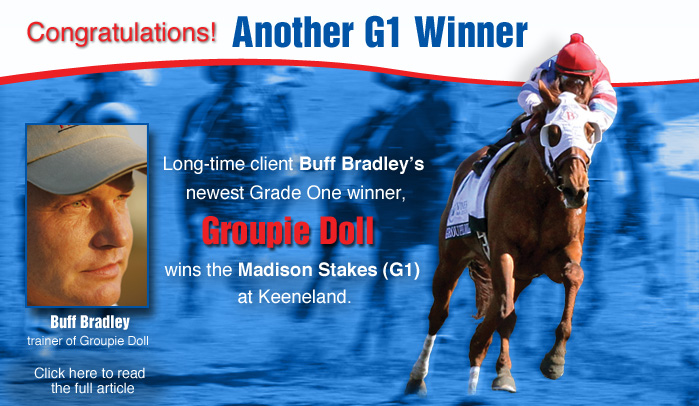 "Pants On Fire has been on OCD Pellets since he entered my barn as a yearling, and we've had no setbacks with him and he's stayed sound. I was recommended to use the product by my veterinarian because we deal with a lot of 2YOs and younger horses, and it has really helped them. We feed it as a part of their daily diet and have had a good run of success. I believe there is a definite benefit to using OCD Pellets. We're real happy with the product and will continue to use it as part of our program."
Kelly Breen
Trainer of KY Derby contender Pants On Fire
Winner of the $1 million Louisiana Derby (G2)
Grade 1 winner Brass Hat retired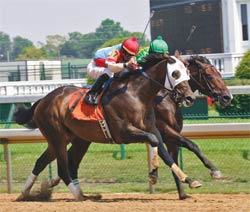 Fred Bradley's homebred Grade 1 winner Brass Hat was retired on Tuesday prior to making a start as a ten-year-old.
Brass Hat won ten times with eight second- and five third-place finishes in seven seasons of racing. He broke two track records, won on dirt, turf, and synthetic surfaces, and won or placed in 19 stakes after two bone fracture threatened to end his career.
"Brass Hat retired sound at age 10 with over $2 million in earnings and OCDTM Pellets was instrumental in the longevity of his career. He will live out his life on the farm and will continue to have OCDTM Pellets in his feed. I also have all of my young horses on OCDTM Pellets, in hopes of creating longer and sounder racing careers."

– Buff Bradley, trainer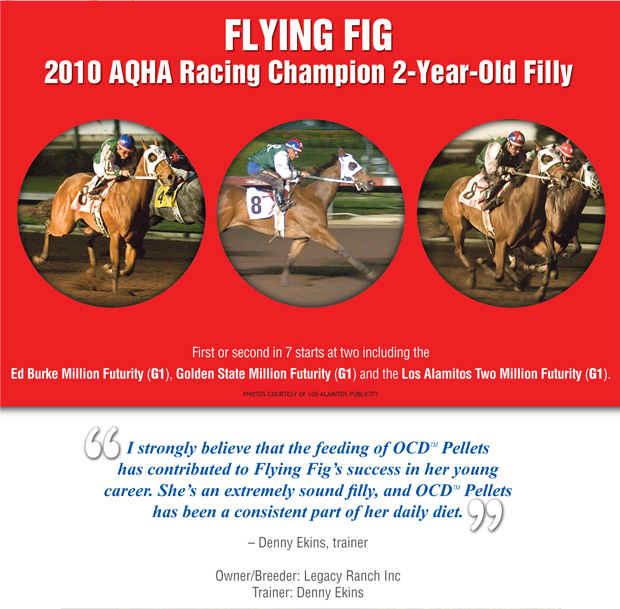 9-year-old multimillionaire BRASS HAT captured his 6th graded stakes on Oct. 21st, winning the Sycamore (G3) at Keeneland!
Danny Warrington on Classico Z
"Since starting Classico Z on OCD Pellets, his ankles have never looked better. Everyone that I have recommended OCD to has had the same results. I feed OCD Pellets because it is one of the few products that I know works."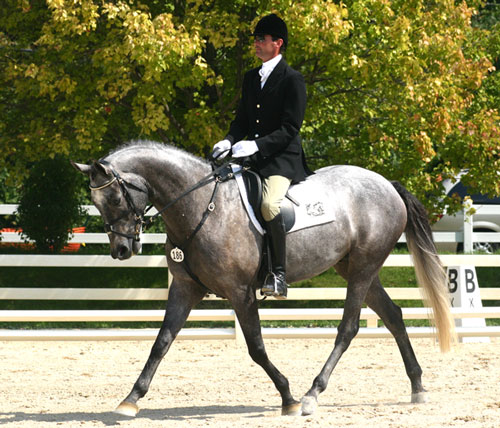 Trainer Buff Bradley on G1 winner Brass Hat
8yo still a graded stakes performer 3 years after bone fracture
Three years after two bone fractures threatened to end his career, Brass Hat is still competing strongly in some of the country's most prominent graded stakes at age 8. On April 24, 2009, the Grade 1-winning millionaire finished a solid 3rd in the Elkhorn S. (G2) at Keeneland.
"(Jockey) Calvin Borel said he was hitting the ground great. We can see now that he is back and able to compete in graded stakes, and we're happy about that."
- Buff Bradley, Trainer
Lady Belsara - Another Proven Winner
From broodmare prospect to Grade Three Winner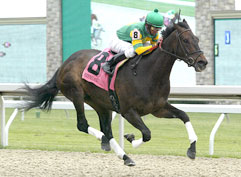 After two ankle surgeries and a slab fracture Lady Belsara was headed for the broodmare band. "We contacted Dr. (Douglas) Beebe about OCD™ Pellets and immediately began feeding her the product. The results were remarkable. Her comfort level improved and within six weeks, with no further surgeries, x-rays showed significant healing, so we put her back into training." "OCD™ Pellets and Lady Belsara proved a winning combination. Since she has been on OCD™ Pellets she is better than ever," said assistant trainer Craig Huston. After her career-threatening injuries LADY BELSARA went on to set a new track record at Keenland and won the Chicago H. (G3).
"Lady Belsara's accomplishments have certainly proven the effectiveness of OCD™ Pellets. I recommend this product to all my clients."
- S. Matthew Kintz, trainer
Brass Hat - It's Like Night and Day
Winner of the Masscap Grade Two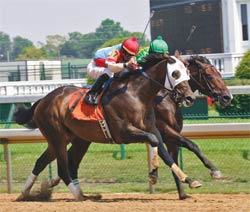 "Since his sesamoid fracture, OCD™ Pellets is the only bone product fed to Brass Hat and has played a significant role in his recovery. I've continued to feed OCD™ Pellets to Brass Hat and many other horses in my stable. The results are tremendous."
- Buff Bradley, trainer
October 11, 2007
Imagine what your horse could do with OCD™ Pellets! Click here to Buy Now!