Why Use OCD Pellets?
Effective in treating the following conditions:
OCDs (Osteochondrosis)
Epiphysitis
DJD (Degenerative Joint Disease)
Bucked Shins
Sesamoiditis
Bone Cysts
Bone Bruising
Navicular Disease
BoneFractures
Arthritis
Ringbone
Bone Spavin
(Read More)
Major Ingredients:
Hyaluronic Acid(s)
Silica(s)
Ingredients Isolates (precursors) of:
Chondroitin Sulfate(s)
Glucosamine(s)
MSM(s)
(Read More)
All natural and organic ingredients
For horses of all ages
100% money back guarantee
A solution to your equine orthopedic problems.
OCD Pellets
is effective in the treatment of: OCDs, Epiphysitis, DJD (Degenerative Joint Disease), Bucked Shins, Sesamoiditis, Bone Cysts, Bone Bruising, Navicular and Fractures.
Order OCD Pellets
(Optimal Cartilage Development)
OCD Pellets Testimonials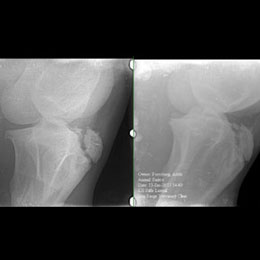 " Significant healing in under two months! "
My 17 year old Appaloosa broke his right Tibial cleft. Read More
Submit Your Testimonial Here!