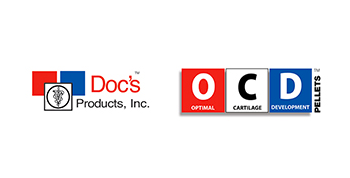 Click here to browse our products
At Doc's Products, Inc., we are animal lovers and animal health is our business. That is why our founder, Dr. Douglas R. Beebe, a long-time, trusted veterinarian, started Doc's Products, Inc. Privately owned and operated, we believe in honesty and integrity, and we run our business with these principals as our foundation. We are direct sale only, no distribution, so that we can offer the lowest price to our clients. We strive to offer only the highest quality products and service available. Our customers have come to expect nothing less than the best, and you will too.
Douglas R. Beebe, DVM, founded Doc's Equine Products, Inc. in 2007. As an equine performance veterinarian for over 25 years, Dr. Beebe saw the need for a nutritional bone supplement. OCD™ Pellets (Optimum Cartilage Development) addresses the daily nutritional requirements for development, maintenance, and repair of bone and joints in horses. Before long, our OCD™ Pellets gained high acceptance throughout the equine industry and by early 2008, our OCD™ Pellets were being shipped throughout the United States, US Territories, Canada, and as far as the Middle East.
Doc's Products, Inc. is proud to honor the foundation of the veterinary profession: the doctor-client-patient relationship. Dr. Beebe, our on-call veterinarian, provides consultative support for his products to our customers with health questions. Find Dr. Beebe's equine health advice in our Ask Doc section of our website. Ask Doc's goal is to help you, the owner, to improve your knowledge of your horse health issues. We do not take the place of your vet. Your veterinarian is always your first—and best—resource for advice.
At Doc's Products Inc., we want YOU to be 100% SATISFIED with our products and services. We are so certain your horse will show improvement using OCD™ Pellets, we proudly offer you our RISK-FREE, 100% MONEY-BACK GUARANTEE! Our customers are our top priority and we strive to deliver 100% CUSTOMER SATISFACTION. Please shop our site with confidence and peace of mind. Our service representatives are knowledgeable and willing to answer any questions you may have. If you are unhappy with any aspect of our services, simply let us know. This allows us to improve as we grow. Again, thanks to all of our customers for their support and input. We appreciate your support and are looking forward to serving you for many years to come.