Thank you for these wonderful products
I purchased COS pellets for dogs as I recently found my 4 yr. old mix breed has hip dysplasia. Tried other supplements and she still needed medication after playing with her dog friends. She was regularly in pain and not wanting to do much. After using loading dose of COS pellets since Aug. 6, 2018 I am now noticing that she is initiating playtime. She's always been a high energy girl. I will continue to use this produce.

Thank you for these wonderful products that help our beloved pets get back to a healthy life-style.
Denise C.​, Preston, CT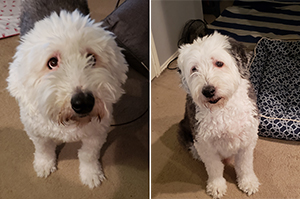 Well worth the investment
These 2 guys are 12 and 13 years old. Their activity level, energy and health has improved greatly since using COS. Well worth the investment. Our vet even asked what we were using at their last annual visit, they were so healthy.
Thanks Doc,
Guinness and Murphy
Joshua​, Sachse, TX
Great supplement I highly recommend
I have a 2-year-old Rottweiler who is 123 pounds. He had a sudden onset lameness on his right front so I took him to a new vet who told me she was afraid of him. She did a poor physical exam never even watching my dog walk. She gave me a prescription for Deramaxx and that was that, no blood work or anything. I tried the prescription for about 1 week and he still limped so I stopped using it. Later, I was researching for a supplement that would help my yearling horse who had been on a very expensive supplement for Physitis. After 4 months, his knee looked the same and his energy was very low, even in turn out he barely walked around. I started the dog and horse both the same day. At day 21, I noticed my dog was not limping any longer and he has had subtle limp since September. I have tried Pet Thrive, Adequan, and CBD oils and nothing helped but this supplement has made a difference. The yearling now trots to the turn out every morning and I am hoping my older mare that has a bone bruise (diagnosed by MRI) will also benefit from the supplement. I am doing the suggested 2 scoops a day for my yearling and mare for 3 full months and I think itís worth the cost.
Melody Aranguren​, Livermore, CA
Your product is amazing!
My dog has hip displasya in both hip. She had surgery on her knee for a torn meniscus and Achilles' tendon. I started giving her the cos and she was doing great. I ran out and now she is having a hard time walking, barely able to walk the steps. Your product is amazing. Thanks.
Harriet Milano, Randolph, NJ
Excellent product, you have a customer for life!
I work with animals (mainly cattle and horses) and knew about OCD pellets and had fed them to my horses in the past. I don't know why or how I came back to Doc's products, but wasn't aware they had a canine product. I have a nearly 4 year old Great Dane that we are seriously concerned about keeping his orthopedic health tip top. In addition, we have a 6 year old Goldendoodle female that has been fighting a knee injury from playing rough with a dog that is 3 times as large and strong than she is. Our doc had told us she would either need surgery or would have a permanent limp and disablement if we elected to not have surgery. We have always given GNC joint support pills and had assumed they we working. After our Doodle's injury and her lingering limp and inability to jump, I decided to try COS pellets for both dogs. The Great Dane gets two scoops in the AM the Doodle one. First of all, the dogs love the taste. Within 2 weeks, our Doodle's limp disappeared. In another two weeks she started flying all around the house and yard at top speed and was able to jump on anything she previously could with no troubles. Finally, the dogs are playing like they did with the Great Dane was a puppy. I have no doubt they both feel much better and he only change I made was to COS pellets. Excellent product, you have a customer for life!
​Kevin Dole, Longwood, FL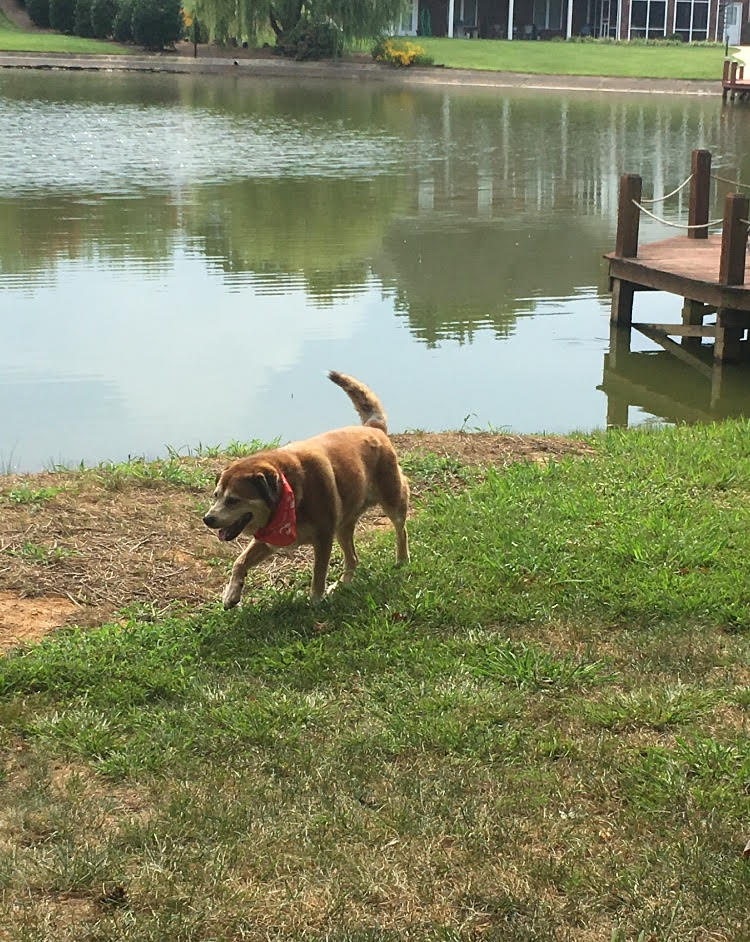 Thank you for this miracle!!
Just wanted to submit a testimonial. My oldest Dog, Cooper, is close to 13 years old. He's a Shepard Chow mix. It's been very difficult over the past year to watch him get up and walk around. He's not been able to take long walks, hard to get upstairs and gets tired easily. He suffers from hip dysplasia, arthritis and lameness. I was desperate to find something to help him. The vet only offered Rimadyl and gabapentin. They said the next stage would be expensive such a physical therapy and acupuncture. I'm not rich by any means so I prayed that I would find something to help his back legs that wasn't expensive. Then I found COS pellets. I read the reviews and thought all these reviews can't be a lie. I have nothing to lose. I can say that after a month of Cooper being on COS, I am truly shocked!! He's able to get up and down steps, he walks better and longer and doesn't have the difficulty he did before getting up. Thank you for this miracle!! I'm glad to see a pep in my dogs step again. Thanks!!
​Holly Devore, Concord, NC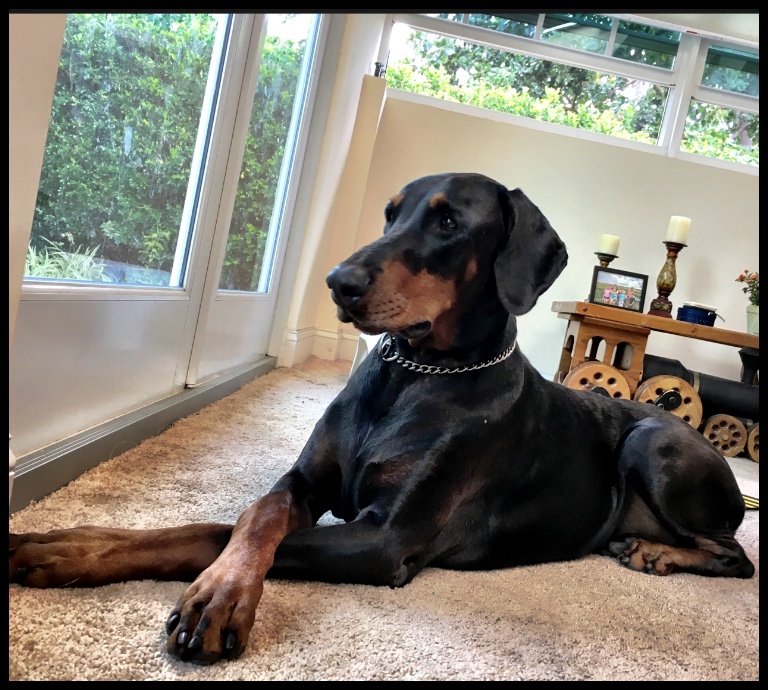 She is very active with lots of energy!
My 2 1/2 year old Doberman was having a little difficulty getting up when lying down. After researching I purchased Docs pellets. What a difference! She is very active with lots of energy! I am very happy with the results, and she seems more comfortable getting up!
​Heather Chastain, Boynton Beach, FL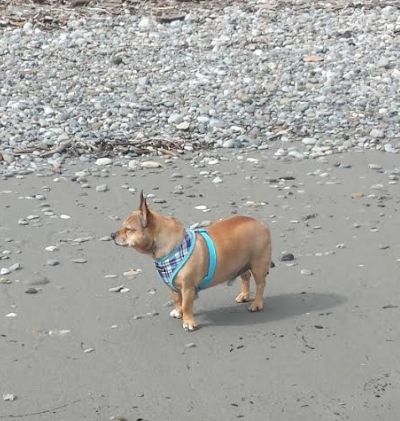 Within 4 days he was dramatically better
Thank you very much for such good customer service. Perhaps a new customer will result from being exposed to this great product for there horse. I know my dogs will always use it as they age. It saved the life of my Chachi He was limping and could not get around. Within 4 days he was dramatically better. Now he follows along with the other dogs playing and running on the beach. Sincerely,
​Marilyn Flink , Sekiu, WA​
Reasonably priced and, apparently very tasty, supplement!
My pup will never be entirely pain free after FHO surgery, but after nearly a month on Doc's COS Pellets he is moving much more comfortably. Thank you for making a reasonably priced and, apparently very tasty, supplement!
​Cheryl Brunke, Terrell, TX​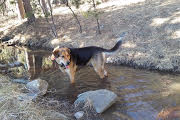 I saw a change within the first week
Ditch is doing so much better since I started him on your COS Pellets 6 months ago. I saw a change within the first week as promised. He is a 100 lb lab mix. He had a tplo surgery at 1yrs old and is now coming 5 and doing great!! I live in the Black Hills of South Dakota, so there are lots of hills to hike. Before the COS Pellets he would come home and be laid up for a day or so gimping around. I have not used the prevacox or baby aspirin in 5 months!!! I am so glad that he does not have to take those meds anymore, thanks to COS Pellets!!!
​Kim Granneman and Ditch, Nemo,SD​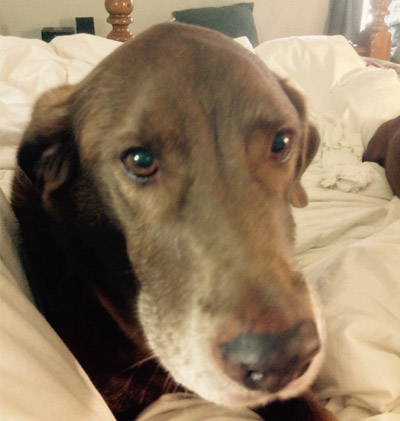 The difference is staggering
My 13 year old Lab began showing symptoms of hip displaysia. It was really hurting to watch him walk, this proud beautiful dog was walking to the side with his tail dragging and the saddest look on his face. He has been on the COS for a few months now. The difference is staggering. He is jumping on the bed again, walking upright and that tail is straight up! What a dog! Thank you DOC!
​Diane M. Jimenez, San Antonio, TX​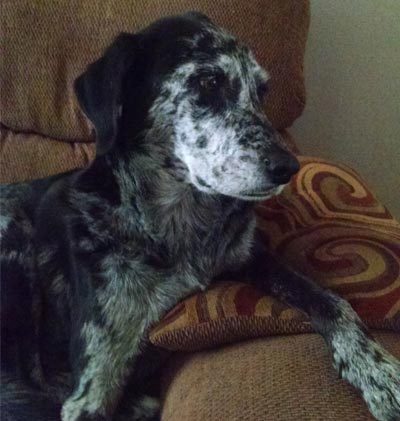 I love this product.
I love this product. Or I should say my dog loves it. I've tried many products and she wouldn't eat them. She's very finicky. And I have had no problem with her eating this willingly. I will be ordering more. It has really helped her stiffness and she acts like a puppy at times.
​Kris Burt, Mountain Home, AR​
Thank you for your product!
I have a sport dog (flyball) I had to retire in January 2015 due to advanced dysplasia. I have tried several products since then and then had a friend recommend COS. Since I had had no real results from the other supplements I tried I said why not. She has been on COS for about a month. I began seeing results in a couple of weeks in her increased range of motion and activity level. She can now chase a ball twice as long as before without a noticeable limp. And the best part is she will actually eat it! She's a very finicky eater and will refuse anything with a powder on it and will dig out pills. The small pellets mix right in with her food and she doesn't even know it's there! I have put my 7 mos. old GSD on it as well as he is the next up and coming flyball dog. Thank you for your product! I will be tooting your horn among my constituents!
Angela Powell, Plantation, FL
We are very impressed with your products
Good day. We are exceptionally impressed with the COS pellets. We have a Great Pyrenees/Corgi mix (Ashley) who, as you can imagine, is predisposed to knee issues. She had a torn back, right ACL which was surgically repaired in April 2015.
A couple days after coming off post op restrictions she started to limp on her back, left leg. The vet mentioned there was "crunching" and it likely could be another torn ACL. They sent us home with anti-inflammatory and pain meds and said if she was still limping after 10 days we should follow up with the surgeon - ugh!
I was in the process of ordering OCD pellets for my Thoroughbred Yearling when I realized you had a canine formula.
Following the 10 days of meds, Ashley was limping again. I immediately hopped on your website and ordered the COS.
Within 3 days of administration we saw an improvement, after 7 days she was limp free. She has now been on COS over 60 days and we rarely, if ever, see her limping.
The OCD pellets for my yearling are being administered in a purely preventative manner at this point. She will go into her initial two months of breaking and light training in mid-October in Oklahoma. We seem to have a good deal of issues with knees with our horses in OK. I've heard nothing but great comments on OCD from my trainers in KY and I am looking forward to good results for my Thoroughbreds in OK.
We are very impressed with your products.
Roselie Smith, Mathasville, MO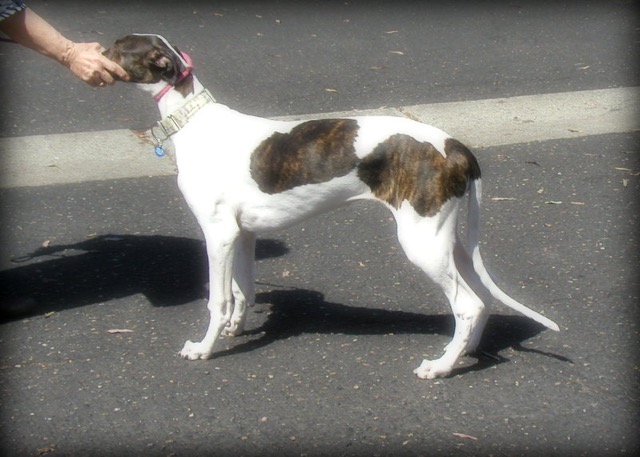 Thanks for a great product
My very large boned show greyhound puppy, Artefakt Starry Starry Night, developed panosteitis and was alternating lameness in all four legs. I started her on the COS pellets that my friend with Friesians advised. One week later the puppy shows no signs of lameness!! I was skeptical but am totally amazed by the results. We may even make her first show in July. Thanks for a great product.
​Cheryl Reynolds, Nipomo, CA​
Thank you for an awesome product!
Docs Products team,
I have two dogs with boney issues. Ruthie is an older dog with a spur on her shoulder. I was giving her pain medication when she would cry out or when she would stand and hold her foot off of the floor. This was happening regularly. When I started giving her the COS for dogs, there were days she didnít feel well enough to even want to eat anything. Serenity is young but has trouble with her hocks. She was also getting pain medicine whenever she was more painful than usual.
This is the first product Iíve tried that they would eat without my having to mix it in canned dog food. They both will eat as much of the COS for dogs as I will give them. Since they were both pretty bad, I didnít expect to see results very quickly. However, both dogs are showing improvement already. I havenít had to give either one of them pain medicine for about a week now.
I am very hopeful that my little Ruthie will have more good years that are somewhat pain free. She was bad enough at times that I wasnít sure I was doing her any favors by keeping her with me. Her quality of life has improved since taking your product. I donít even know how many products I tried that were supposed to help with the boney issues prior to getting the COS for dogs.
My daughter was using your OCD for horses and recommended that I get them for her old barrel horse. He had been turned out due to problems in his front feet. She now uses him as a pony horse and he acts like he feels good again. Because of this success, I decided to give the COS for dogs a try. Iím so glad that I did.
​​Pat McNiel, ​​Peralta, NM​​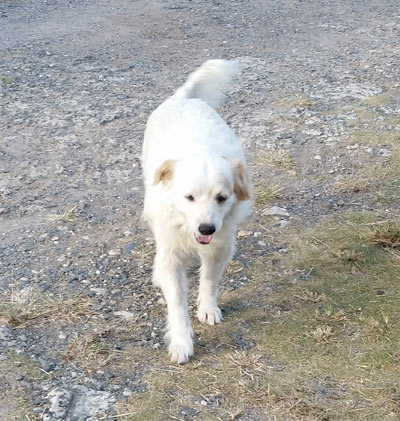 I Am Very Happy!
I am very happy that I ordered the COS pellets for our 10 yr old dog Pepe. He was walking VERY stiffly and with obvious pain and difficulty and would barely be able to climb the low stairs onto the porch, at times stumbling backwards. Now he is almost walking normally and running and his happy face shows his pain is gone. We will definitely continue to keep giving him the product - so natural and effective. Thank you.
​Carol Ann Frederiksted, VI​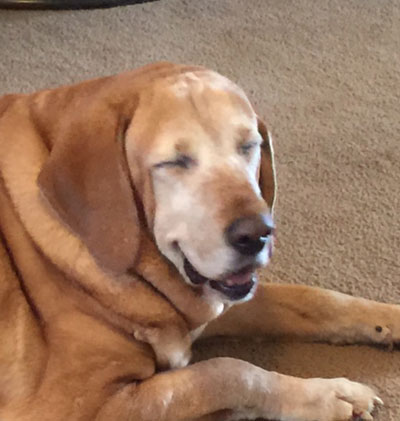 Thank You!
I have a 13 year old 120 pound lab/golden retriever mix who has been suffering from crippling arthritis for 3 years it's hard for him to just stand up on bad days.He is like a child to me and a nanny to our kids. I have tried everything to keep him going he is on special dog food and supplements that did help for a while, but this winter he started having a decline again. I saw a banner for this product (I never click on banner sites) but I did, and since they gave you a month free I decided to try it. Jake's activity has increased, he gets up and down the steps better and he is even playful at times, he is even going on walks with me again! This product is amazing and it has given my old man some pep in his step!! Thank you so much!!!
Laure and Jake O'Brien, Marshall, Texas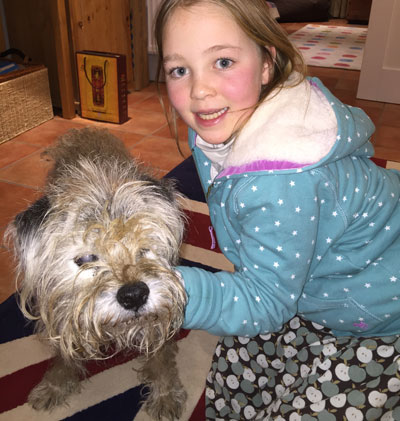 COS Absolutely Works
Having heard from racehorse trainers about how good OCD pellets are for racehorses, we first decided to give COS pellets ago to our "old man" Border Terrier, Oscar, who is now in his 17th year - some four years ago.
When Oscar was a small dog, he was involved in road traffic accident which resulted in one of his legs being amputated. Tripod, as he affectionately known, hasn't let being a three legged dog deter him and has enjoyed a long and happy life. The surgeon who performed the amputation warned us that Oscar would likely become fairly arthritic at a young age and would be unlikely to live into his early teens. Well he has certainly defied the odds and our veterinarian is in no doubt that his general wellbeing and mobility is partly thanks to the special dog food he has been fed as well as the combination of COS pellets.
We know that Oscar can't go on for ever, but thank you Dr and Sylvie Beebe. You told us to give COS pellets a try as they work. Well they absolutely do!
Anderson Family, England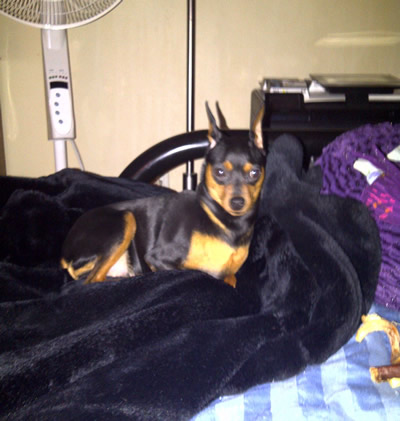 Miraculous Improvement
I am so blessed to have found COS Pellets for my incredibly loved and treasured Dede, my little MinPin!!!!

COS Pellets have made a miraculous improvement in Dedeís cartilage deterioration in her knee joints. I was having to pop her back legs into place at least 15-20 times per day, with no exaggeration. It took about 3 weeks to see a marked difference, however after about 5 weeks, I was astounded at the dramatic improvement in Dedeís joint problems! I have not had to pop her joints into place for over 7 weeks. SEVEN WEEKS. AMAZING!

Now I am exhilarated for my little girlís relief of pain, remarkable improvement in agility, mobility, strength and durability in her joints.

Heartfelt thanks for developing a superior product that actually produces the results professed in the literature.
Kelly Green, Toronto, Canada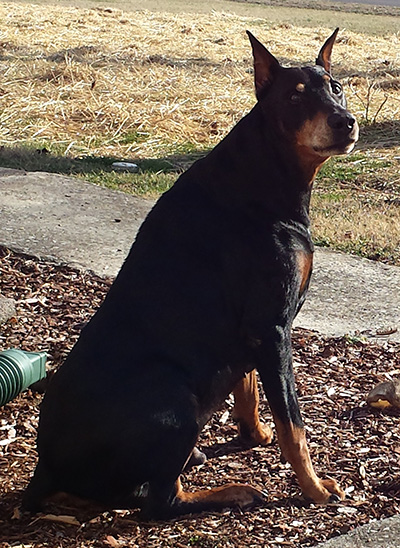 AHHHHMAZING product!!
My Doberman is almost 12 years old...he has been getting up slower lately and after your product was up without struggle. Life got a little crazy, we traveled some and ran out for a few weeks and we could noticeably tell a difference. I am ordering 3-6 months worth this time and don't plan to run out again! Thank you for making this product!
Heather Perkins, Cleveland, TN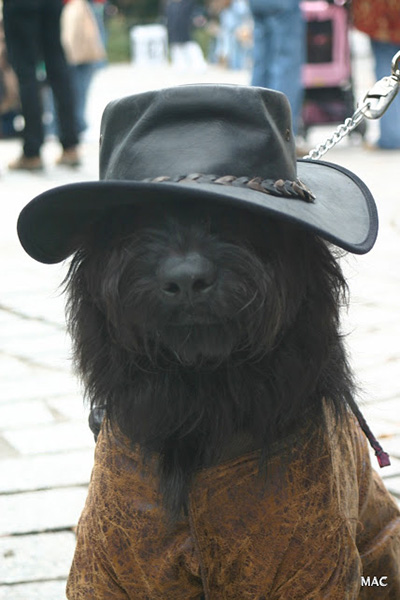 Positive Feedback?? Oh heck yes!
I bought this product for my 85 lb Giant Schnauzer, Zeke. Zeke is just over 8 years of age and has hip dysplasia. A vet that we use while on vacation recommended a product, a certain dog food that apparently helps out dogs with this dilemma, but after looking at the price, it was simply not affordable. I use a high-quality dog food now and did not have the budget to spend over twice as much.
So, looking for another solution, I found your COS Pellets and am extremely pleased. Zeke, prior to the medication, would have difficulty getting up off of our ceramic tiled floor. Occasionally he would wince.
Now it's been a few weeks since I started the treatment, I've lost track, but there is a noticeable difference. He seems to be much more comfortable with his gait. He is bouncing around the yard with his new one-year old brother. I don't seem him having the same difficulty getting up on his couch or getting up off the floor.
There is no question in my mind that Doc's COS Pellets for dogs has improved Zeke's quality of life and it will be on his diet from this day forward.
Mike Callery, Kenner, LA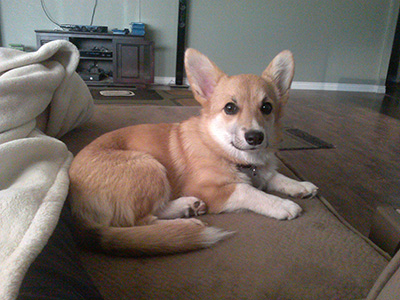 I can't believe how well this product worked.
I didn't use it on any ordinary dog. I found a puppy in the trash can. At only a day old, i knew something was wrong with her back leg. As the weeks went on of bottle feeding, she slowly started walking. However, she couldn't walk straight. She would walk completely to the left. I could tell something was wrong with her hips. She was five weeks old at this time and just started eating hard food (watered down). I heard about this product, and started her on it right away! I couldn't believe it, within FIVE days, she was walking 99% better! Today she is 9 months old, and runs around the ranch with my border collies like nothings wrong. I will never take her off this product! I believe it helped me save her life!
Laura and Timothy Moyer, Winchester, CA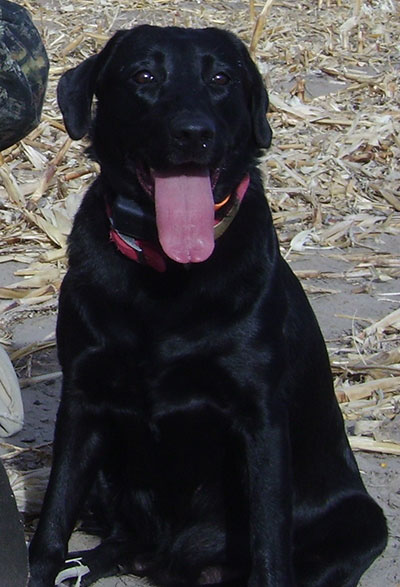 Thank you for such a great product!
Our 10 year old lab recently had a major lameness problem with a rear leg so I took her to the local vet. They gave me a weeks worth of Rimadyl and thought it was a hyperextended leg. After a week and no improvement I started this dog on the COS pellets. Within four days our dog started using the leg again and after two weeks the dog has made a full recovery. I want to say thank you for such a great product. At one point I thought it may have been an ACL injury possibly after the Rimadyl did nothing.
Robert Webb, Loveland, CO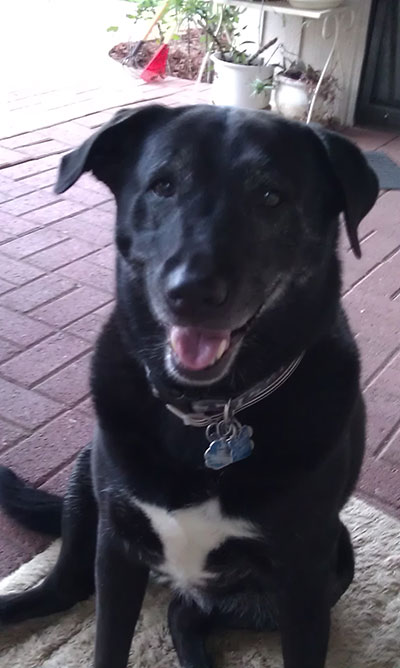 This truly is an amazing product.
I'm 64 years old & I have never before felt compelled to comment about a product. We have an 11 year old Lab mix. She was at a point where she hardly ever got up from her bed due to the pain in her joints. It was painfull for us to watch as just a year earlier she would run & fetch and jump in & out of the truck to go for rides. Out of desperation, I ordered your product. Within a week, this dog that we believed we would have to put down, was back to her old self, running and in & out of the truck with ease. When we ran out of the product we tried giving her the best, most expensive tablet form of glucosimine/chondroitin on the market. Within a few days she slipped back in to where her pain was just too hard to watch. We will be using COS for as long as she is with us & just wanted to thank you. This truly is an amazing product.
Dave Davis, Tucson, AZ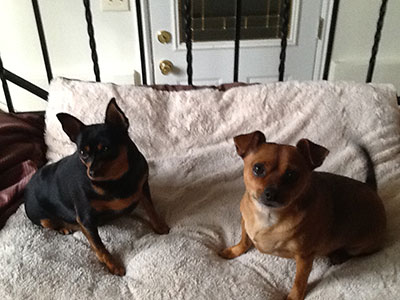 It worked for Dixie within a week!
I can't thank you enough for restoring my little dog's joints again. Dixie is a 5 year old min-pin, she has been limping, and laying around all day. I am sure she was hurting for sometime when I came across your product (COS) in the internet; it worked for her within a week. It has been over a year ago now and Dixie is doing great. Buddy (Dixie's son) also gets a 1/2 scoop to keep him healthy and happy, ....they love that stuff!. Thank you doc.
Emma Vandenburg, Salt Lake City, UT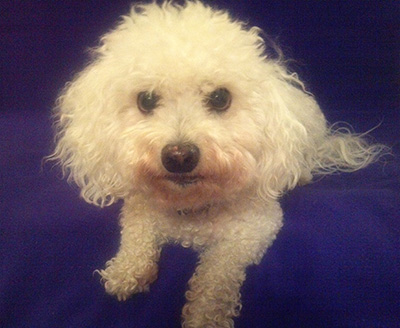 COS had her leaping in less than a week!!!
Cookie is a 15 year-old Bichon Frise. A few months ago I noticed she was no longer jumping on or off the bed or the couch. She had also stopped performing her "Bichon Blitzes". Within less than a week, the COS had her leaping and blitzing (almost) like a puppy! Thank you!
Lou Hamilton, Prosser, WA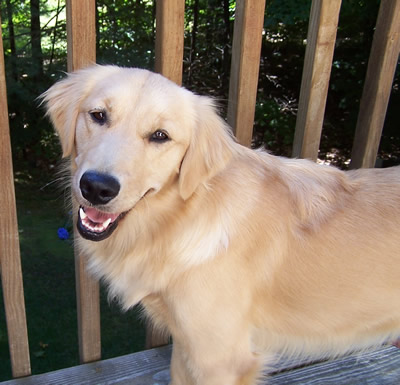 THANK YOU!!!
You and your product have made such a difference in Ella's quality of life. Ella is our 7 year old golden retriever, who has had severe hip dysplasia and resulting arthritis in both her hips and elbows. We have tried so many products over the years, and did not want to resort to medications, with their potential long-term damaging effects. We were close to that, though, as Ella had begun to refuse walks. A golden? Refuse walks? You knew she had to be in pretty bad discomfort.
The day after her first dose, Ella wanted to go for her morning walk. She actually wanted to! I did not have to coax and encourage her to go a few steps-she happily trotted down the driveway and down the street! I was cautiously optimistic, but waited to withhold judgment until a longer trial.
Well, it is months later, and I am thrilled to report that Ella is doing so well! She enjoys her walks, and has even occasionally run a bit - something she has not been unable to do for years! We will be eternally grateful, and I am telling everyone who will listen about C.O.S.
Carol Lynn Kabacoff, ME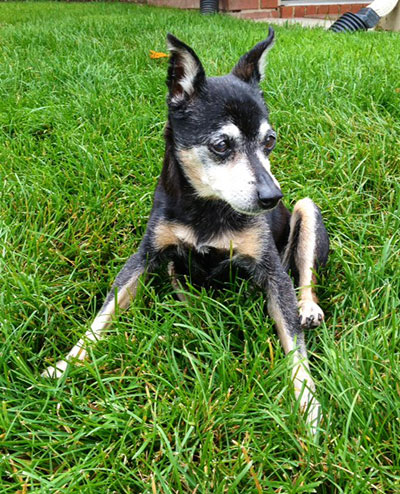 I will never stop giving her this product!
Hi! I was just on your site and wanted to say Cissie is still on COS and looking great. I will never stop giving her this product! COS has improved her life so much that she wants to go outside and walk and run around the house like a kid. She now acts like she's 5 years old again!! She is under foot and in my sight all the time. Before giving her COS we wondered what bed she was in! She has like three beds. We call them her blue, yellow, or brown beds placed around the house! Thanks again
Mark Lorey, Canton, MI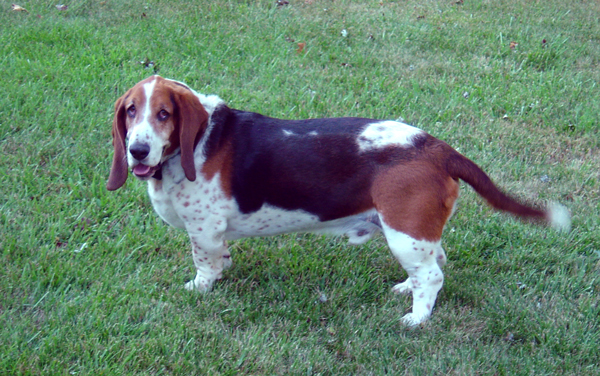 We saw relief from hip dysplasia pain in three days on COS
This product works great on my basset hound, Opie. He was diagnosed with hip dysplasia and had trouble walking, let alone running. After three days on COS we saw relief and he now runs and plays as normal.
Kenneth Myers, Milan, IN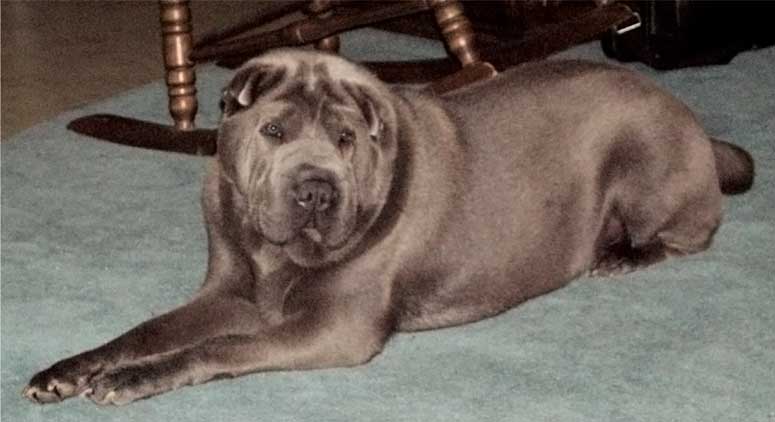 Bear is no longer limping!
The COS Pellets seem to be working. My 7 year old male Shar-Pei is no longer limping. The doc had found arthritis in his front shoulder. A friend who has horses has his dog and horse on your products. He loves it. I've been sharing your email and name around. Thanks!
Lee & Leslie Sexton & Bear, Haughton, LA
100% better than when we started this product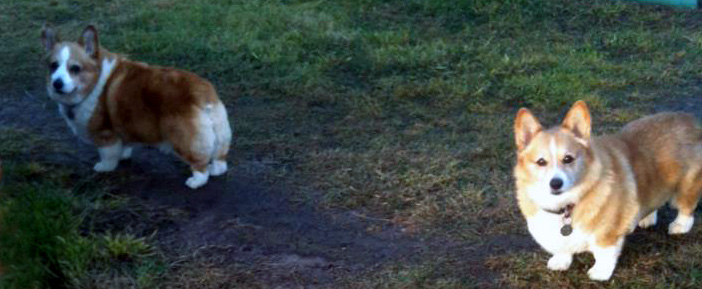 Dr. Beebe,
I wanted to recommend COS supplement for arthritic dogs. It seems like I've tried everything to make Teddy, our 11 year old Corgis, and Shadow, a 3 yo with hip dysplasia, more comfortable, but no avail.

I didn't hold any real expectations for this product either to be honest. It's now been two weeks and Teddy, who because of arthritis, had a very difficult time walking, and laid down as soon as he got to his destination. He is now loping through the house and bouncing when he gets excited.

It makes us so happy to see him not hurting. I haven't taken him off the pain meds yet, but he has been on the pain meds all along. I'm going to see if he can be weaned off them soon. If not, he's still 100% better than when we started this product.
Jeanne Dial, Kingfisher, Ok
Dr. Beebe - Hero!
Dr. Beebe,

You are my Hero! You made me run again after taking COS Pellets. It felt great and it made Mama cry the first time I chased after a jogger and his beautiful dog - big too - but I felt great! I chase cats and other neighborhood dogs, not very far, but I can run again! What fun!
Allie and Scarlet Lanier, Carrollton, GA
Made an amazing difference!
These products have made an amazing difference in both my young horse and my French Bulldogs . Thank you so much !!
Robin Vaughn-Strait, Sunbury, Ohio
Best Dog Ever!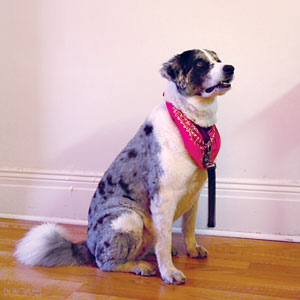 My Australian Shepherd, Indigo, is the best dog ever! She is so smart, loving , and obedient. She started limping intermittently here and there. When I took her to the vet, they told me since she was around 9 now, it was probably normal aging and I had to put her on Rimadyl for pain when she was limping. I looked up some of the side effects and I wasn't happy with them or the other typical types of NSAID pain meds prescribed for canine muscular and senior arthritis. I was familiar with Doc's Products from using OCD pellets for my filly, so I thought I would give COS a try. She's been pain free and limp free since I put her on them, so I'm very pleased with the product.
Ulrike Pohlig, Indigo's Owner
Albany, NY 11-29-11
Thank You, Dr. Beebe, For Such A Wonderful Product
I purchased COS Pellets for my 8 yr. old Lab. I noticed her being stiff in her hind end after getting up from sleeping. After about 2 weeks of giving her the pellets, she is getting up quicker and has a smoother, more natural run. Plus, she loves eating the Pellets. I sprinkle them on top of her food and she eats them right up. There have been times when I have forgotten to put them on her food and she just comes and eats them out of my hand. Thank you, Dr. Beebe, for such a wonderful product. It has definitely put some pep back into her step!
Martina Meyerhoeffer, Sorrento, FL 8/30/2011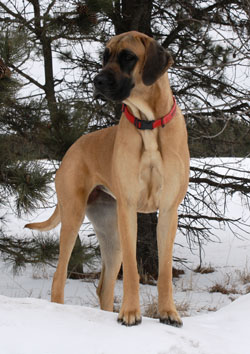 What Has Gotten Into Her?
As owner and operations manager of a Thoroughbred race horse breeding farm, I have followed OCD Pellets Equine since the beginning and heartily endorse their use in both our own horses and those of our clients. I have seen them make a dramatic difference in young, growing horses that have joint and ODD issues. When our English Mastiff/Great Dane mix, Chloe, started to exhibit joint stiffness at only two years of age, I was thrilled to find Doc's Products, Inc. had a canine version for me to try. We LOVE this dog and will do anything to keep her healthy and comfortable for as long as possible. After only one week on the pellets, I noticed her racing around, chasing geese from the pastures and running in and out of the pond with the horses. She was so happy and wild that my husband asked what had gotten into her! We realized that it was due to the COS Pellets. Our old Cocker Spaniels, Lizzie and Chloe will continue to get the pellets every day. They run all around our 60 acre farm, following along as we feed in the morning and evening with no signs of soreness or stiffness. I've tried many, many joint supplements over the years -- and this formula works.
Deb Hilger, Chloe's owner
Bleu Valley Farm Stillwater, MN
13 Year Old Shepherd With Hip Dysplasia and Arthritis

"My dog Jake is 13 years old. For years he went along when I fed the horses; it is the highlight of his day. But eventually Jake's arthritis got the best of him and I stopped taking him for fear the play would get too rough and Jake would no longer be quick enough to dodge the flying hooves. Now after just a few weeks using COS Pellets, my fears, as you can see, are gone. He acts like he's a pup again."
Mike Eckman, Jake's owner
English Mastiff With Degenerative Hips
My dog, Mariah, an English Mastiff, is 4 years old and weighs 128 lbs. I was beside myself as my dog was dragging her hind leg and had trouble getting into the car and even going to the bathroom. We visited the vet and she was diagnosed with degenerative changes in her hips. It seemed any movement involving her hind end was painful and all she wanted to do was lay on the couch. I knew the effects of OCD Pellets on horses and its success, so I contacted your company. It's been about a month and a half since I received COS Pellets and started giving it to her. Today she is a happy, lively dog again. Now, when we take her for a walk she thoroughly enjoys it. She is getting into the car without any hesitation, jumping into the groomer's tub with a lively step again, and most importantly, wanting to play again.
Anne M. McCloskey