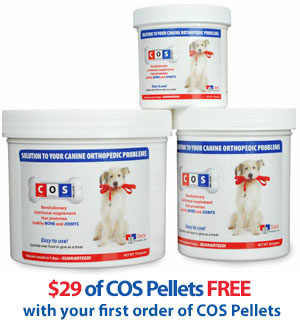 A solution to your canine orthopedic problems.
COS Pellets is effective in the treatment of: Hip Dysplasia in Dogs, Elbow Dysplasia, OCD (Osteochondritis dissecans), HOD (Hypertrophic Osteodystrophy), DJD (Degenerative Joint Disease), Arthritis in Dogs, Osteoarthritis in Dogs, Osteoporosis in Dogs, etc.
Bring your dog pain relief and allow them to return to normal mobility and function.